Meet the 2022 AACTA Pitch: Regional Landscapes in Partnership with Screenworks Finalists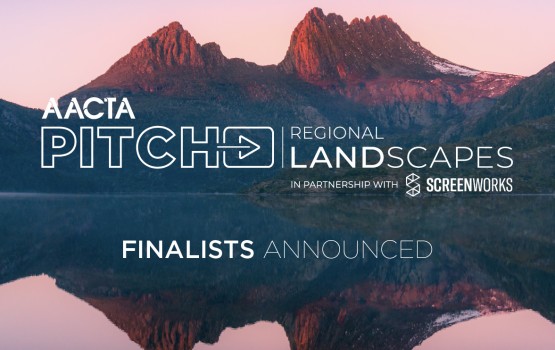 AACTA Pitch: Regional Landscapes in Partnership with Screenworks and AISF - a national pitching competition asking aspiring creatives to submit an original idea for a feature film that celebrates Australia's diverse regional areas - has returned for its third year!
This year, the requirements to enter AACTA Pitch: Regional Landscapes were refined, seeing that one member of each team must currently live in a regional area. This proved to be no setback, as an impressive calibre of feature film ideas were submitted to AACTA.
Five finalists were selected to progress to the next round, during which a judging panel made up of Michael Pontin, AACTA Award winning producer and the head of Ticket To Ride, a subsidiary of See Pictures; Rachel Okine, the Head of Features and Development Executive at Stan, Australia's leading national streaming service; Tony Briggs, AACTA Award winning writer and producer (THE SAPPHIRES, THE WARRIORS); Peter Cron, VP of Production and Development at Likely Story; and Kevin Misher, US based producer (COMING TO AMERICA 2).
The five AACTA Pitch: Regional Landscapes in Partnership with Screenworks finalists and their loglines are as follows:
THE BANK MANAGER (set in Cloncurry, QLD) | Madeleine Chaplain and Luke Chaplain
Based on true events surrounding the 1932 Cloncurry bank robberies. Amidst drought and recession, a farmer assembles a team of colourful locals to pull off a sophisticated heist. It will take skill, bravery, a few bars of soap and a woman named Peach. But in this small country town, where everyone knows everyone's secrets - will they succeed? Or worse - will they be caught?
BLACK MAGIC (set in Scone, NSW) | Leonie Kelly and Di Smith
From the outback to Tarakan, bound together by love, loss and incredible danger, two warriors fight for the recognition of Len Waters, the first Aboriginal fighter pilot, Australia's 'Missing Man'.
LAND'S END (set in Ballarat, VIC) | Lou Sanz and John Kachoyan
After a devastating loss, an emergency room Doctor flees to a remote property 'prepping' for an imagined apocalypse. But when a global catastrophe actually strikes, survivors start trickling in and she's forced to choose between isolation or life amongst the survivors.
RADIO INFREQUENCY (set in Kangaroo Island, SA) | Dave Wade
Volunteers from a community radio station are forced to navigate their way through a merger bid from a multimedia corporation with ulterior motives.
THE TRACK (set on the Birdsville Track, QLD/SA) | Travis Akbar and Adam Gerard
Following an abduction, cops and journalists charter a plane to the Birdsville Track to negotiate the safe release of three hostages from dangerous, armed convicts. Based on true events.
Madeleine Chaplain and Luke Chaplain | The Bank Manager
Siblings Madeleine and Luke Chaplain have a deep love for the Australian Outback. Having been raised on a cattle station in North-West Queensland, their passion for 'the bush' is only matched by their relentless ambition to become renowned filmmakers. The pair make up Quamby Studios, a production company focused on screen projects about, and made-in Outback Australia. THE BANK MANAGER, based on the true events surrounding the 1932 Cloncurry bank robberies, will be Quamby Studios second project. This project involves Luke as co-creator, co-producer and actor; and Madeleine as writer, director, co-producer and actor.
Madeleine is a writer, actor and emerging director. Upon graduating QUT with a Bachelor of Fine Arts (Acting), Madeleine moved to Sydney where she performed in short films such as Anna McGahan's GINGERS; and in commercials for companies such as Samsung. From Sydney to Melbourne, Madeleine's first writing project was a co-written play entitled I don't know yet, which made its debut at the 2015 Melbourne Fringe Festival. From Melbourne to LA, Madeleine has trained with The Groundlings and was accepted into the American Film Institute for screenwriting in 2020. Madeleine recently shot the pilot episode for her series Composure, a project she wrote, co-produced and stars in. Whilst pitching Composure to the industry, Madeleine has been working as an Assistant Director for commercials as well as series such as Young Rock and feature films such as TICKET TO PARADISE.
Luke is not only a promising filmmaker, but a farmer, entrepreneur, and rodeo champion. Originally from North-West Queensland, Luke travelled to Melbourne to study at the Australian Film & Television Academy. He boasts a list of film and tv credits including TRUE HISTORY OF THE KELLY GANG (Horse Stunts), Total Control (Actor) and Composure (Executive Producer). Recently, after successfully campaigning to lure Channel 10's Survivor Australia to the Cloncurry Shire, Luke worked as an assistant director for the two-month production.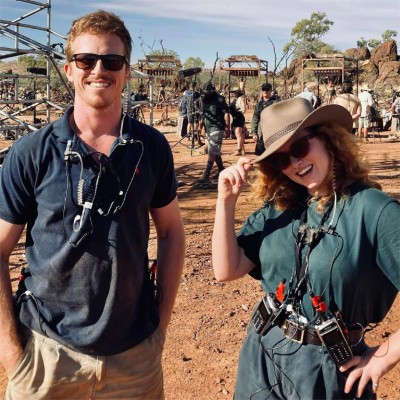 Leonie Kelly and Di Smith | BLACK MAGIC
Leonie Kelly and Di Smith's feature concept BLACK MAGIC is inspired by Len Waters and his wife Gladys, two warriors who fight for recognition of Len's achievement as Australia's first Aboriginal fighter pilot. Di and Leonie were drawn together by the book "The Missing Man" on which Black Magic is based, Leonie researching Kamilaroi country and Di researching 78th Squadron in WW11, where her father Frank Smith and Len became friends.
Leonie Kelly is an Indigenous Director Producer, Born in Wollongong NSW Australia. She now resides in Kamilaroi Country in Tamworth NSW, where she is dedicated to giving the opportunity to the Kamilaroi Gamilaraay Gomeroi people and the regional community to explore the film industry practices.
She began her career in Film Production as a Videographer of Paranormal Investigations and as film crew of Australian Country Music Singer songwriter, Roo Arcus. Kelly wrote and directed her first short film DAYS OF CHANGE in 2017 where it was premiered at the Forum 6 Cinema in Tamworth NSW. In 2018, she was announced as member of the 12 Australian Regional Emerging Film Directors by Screenworks. Leonie has a long list of production credits, including short films TERRA INCOGNITA and award-winning MUNGO, feature film JUST RUBY, and documentary CORONAVIRUS AND ME. She was crowned the 2021 Tamworth Local Legend, awarded for Excellence in Visual Arts by the Tamworth Regional Council and was a finalist in the 2022 Australian of the Year Awards for Tamworth. She is a member of the Australian Director's Guild (ADG) and Screen Producers of Australia (SPA).
Di Smith has enjoyed a varied and highly visible career as an actor and independent producer, working with writer/director Matt Day on his short films THE MOTHER SITUATION - which was the 2017 Tropfest Winner, taking home Best Film, Best Screenplay, Best Actress - and PERRY, which played at the 2016 St Kilda Film Festival and Palm Springs Film Festival. She co-produced the TV Pilot Subject to Change (2015), an Australian drama about same sex attracted high school students. Di has also worked on stage, producing Wild Thing by Suzanne Hawley in 2021.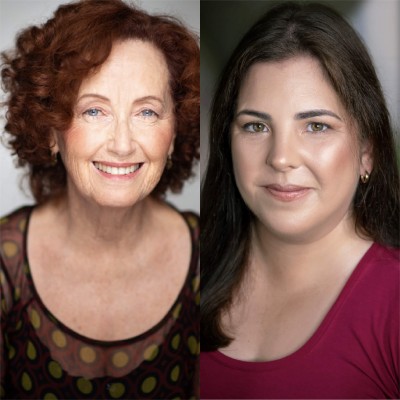 Lou Sanz and John Kachoyan | LAND'S END
Lou Sanz and John Kachoyan's shortlisted concept LAND'S END tells the story of an emergency room Doctor who flees to a remote property 'prepping' for an imagined apocalypse.
John is a queer regionally-based Armenian-Australian writer and director who began his career in theatre. John was a Creator on Impact Australia 2 (mentored by Stuart Beattie), developing his sci-fi feature GAIA now attached to Gentle Giant Media. His TV series, Ellie Ruins Everything, co-created with Lou Sanz, is in development with Orange Entertainment Co and Gambit Media, after launching on AWG's Pathways Programme. As director, John is on Film Victoria's Key Talent Register, completing a Director's Attachment on The Blake Mysteries for Channel 7/December Media. Prior to this, John created and toured several multi-award-winning theatre productions across Australia and internationally. He holds an MA in Theatre from the Royal Central School of Speech & Drama, studied script-editing at AFTRS, and originally trained as a playwright at NIDA.
Lou Sanz is an award-winning writer, behind works such as Life Support, The Pm's Daughter, and How To Stay Married. Her debut feature AUDREY is set for production in late 2022. Her dark comedy Ellie Ruins Everything (co-created with John Kachoyan), has joined forces with Gambit Media and Orange Entertainment. At the same time, she'll make her feature directorial debut on her own new drama Laugh Club (currently part of ATTAGIRL's international script development programme) and is working on her other TV show, Confidence, both in development thanks to Screen Australia.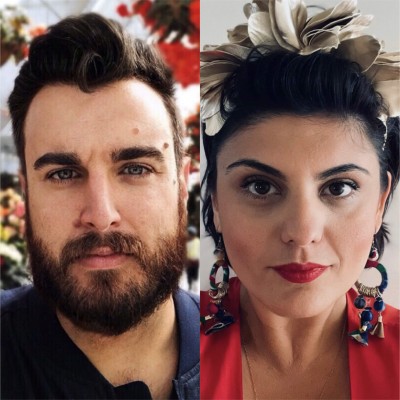 Dave Wade | RADIO INFREQUENCY
Dave Wade is the writer of RADIO INFREQUENCY, a story about volunteers from a community radio station who are forced to navigate their way through a merger bid from a multimedia corporation, is a tradie and self-taught filmmaker, who credits his teacher as his greatest influence.
His short films (CROPPED and WELCOME TO THE IRON KNOB) have screened at locally local festivals and have won awards including Best Film at the St Kilda Film Festival, Best Screenplay at Sydney Film Festival, and Best Short Screenplay at the AWGIES. David has been nominated thrice for the AACTA Awards and Dendy Awards. WELCOME TO IRON KNOB recently won the AACTA Award for Best Short Film of the Decade.
His shorts have also been nominated in the International Festival Circuit for Best Short Film at the Chicago Film Fesitval and the Raindance Film Festival. He has screened his shorts at at Warsaw Film Festival, the Cork Film Festival and at LA Shortsfest. Dave, however, believes his crowning achievement is taking 7/14 off 10 overs, bowling into the wind with the new ball.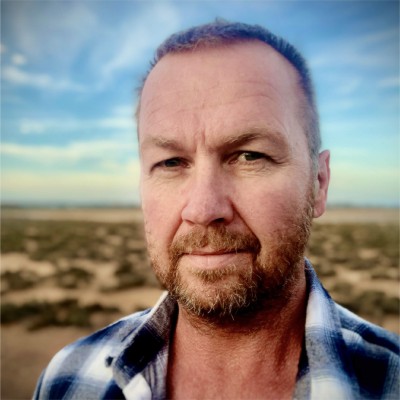 Travis Akbar and Adam Gerard | THE TRACK
Written by Travis Akbar and Adam Gerard, THE TRACK is based on the true story of the cops and journalists who charter a plane to the Birdsville track to try to negotiate the safe release of three hostages from escaped, armed convicts.
Travis is a Waljen man from the Wongutha First Nation from the Eastern Goldfields of Western Australia, and was raised on Wirangu country on the West Coast of South Australia. Travis began screenwriting professionally in 2018 and has been mentored by award-winning First Nations playwrights Alexis West and Nathan Maynard, as well as Hollywood credited screenwriter Steph Lady. Travis' has since worked with producers in Australia, Canada, Mexico and the USA and has a passion for writing genre films and television series from First Nation and other diverse perspectives.
Adam Gerard began a stage career at five years of age, however after breaking his back twice, he turned to filmmaking and writing to treat his CPTSD and to aid in his long-term rehabilitation process. Adam became Chief Executive Officer and lead director and producer at Cabana Productions, a 100 per cent disabled owned and led production company that Adam founded in 2018.  Since that time, Adam and the Cabana Team have produced content in every form, from podcast, to live streaming, documentary, and drama. Cabana Productions are the 2020 and 2021 Onkaparinga On Business Awards winners for Professional Services.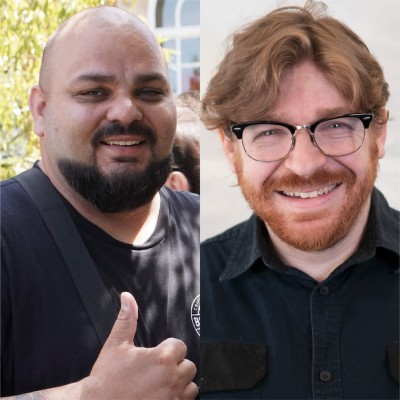 Find out more about AACTA Pitch: Regional Landscapes in partnership with Screenworks here.