Maria Angelico on STATELESS
Produced by Cate Blanchett and starring an all-star Australian cast, STATELESS is an urgent and compelling drama about individuals caught up in an immigration system that profoundly affects their lives. Each character deals with the contradictions of protection and border control from a unique perspective, offering relevant and timely insight into issues that countries are grappling with around the world.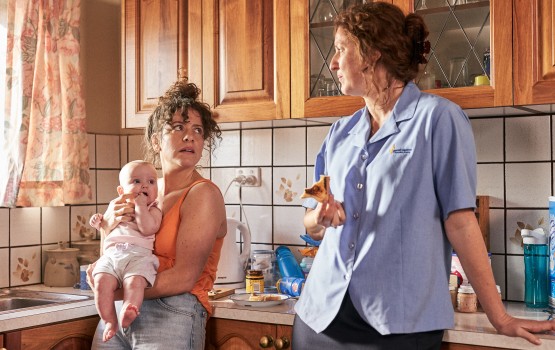 Maria Angelico (SISTERS, THE INBESTIGATORS, MY LIFE IS MURDER) plays the key role of Angie Sanford in the upcoming six-part ABC miniseries and revealed to AACTA Connect how she approached her character ahead of such an ambitious project and what it's like to work with some of Australia's top creatives.
STATELESS explores such complex and relevant themes. Can you tell us about your character and their role in the story?
I play Angie Sanford, Cam's wife and high school sweetheart. She grew up in Port Augusta, married and had children young. She can be tough, but is supportive of Cam and genuinely loves him. They have three children under four, and she does the majority of the parenting. Consumed with caring for her family and making ends meet, Angie has little energy to care for much else; encouraging Cam to take a new job as a detention center guard.
What was it about Angie that appealed to you so much?
There were many things that appealed to me about Angie; one of them was the journey her family takes throughout the series which is a particular facet of immigration detention that I haven't seen explored. This includes the effect it has on communities that may not be selective when high paying employment opportunities arise, and the moral consequences that can come of it. This is one of the many remarkable things about the series; the subject matter is approached from many different perspectives through these honest and human characters making the content very rich and layered.
Did you find yourself personally connecting with Angie? As an actor, how do you work to find the commonality between yourself and the character you're playing?
Angie and I are different in many ways, so it was important to dig into where her heart is. I thought about where she's come from and what she's been exposed to, avoiding judgement and zeroing in on what drives her. This is always much easier when the writing is so good. Angie wants the best for her family, not unlike other characters in the story, and that is something a lot of us can relate to. I was also raised by a single mother of three and although Angie is not on her own, I definitely found it easy to connect to a tired mum doing her best.
The script is full of rich characters like Angie and was written by the Elise McCredie (RIDE LIKE A GIRL) and AACTA Award winner Belinda Chayko (SAFE HARBOUR, SECRET CITY). What was your reaction to the script following your first read?
I was enthralled. I cried. I couldn't put it down. I was very excited to read the scripts and even though my expectations were high, they were exceeded. It feels like something very special, new and ambitious.
How do you get into the mindset of your character despite your differences? How did you prepare?
I remember being jet lagged when I put down the audition, but luckily knowing the scenes and how tired Angie would be in these moments, I just lent into that exhaustion. But, of course I was worried that I'd sent off boring tapes! In preparing for the shoot, I was very grateful that the gorgeous young actors cast as our boys were so playful and imaginative; it only took our first meeting to feel connected with them. I made the most of the little time I had in Port Augusta before shooting to absorb the culture and environment. Jai [Courtney] and I even had a night at the local pub which was a great way to navigate our dynamic. Immersing myself amongst the town and locals gave me a true sense of the world in which the Sanford's exist and really helped me form Angie's identity.
STATELESS is produced by and stars our Ambassador Cate Blanchett and features a cast of incredible Australian actors and creatives. What was it like to work with them?
Admittedly I was very intimidated. I was so set on not letting them down. I often feel this way when starting on a new show, but there's an extra level of adrenaline and even imposter syndrome that can kick in when working with artists of this esteem. I felt a great sense of responsibility being trusted with the supporting role of Angie. Luckily we were all in safe hands; Tony Ayres, Cate Blanchett and Elise McCredie did such an incredible job producing the scripts; the characters are so real and multifaceted. I was also excited to work with cinematographer Bonnie Elliot, who I adore and again with Emma Freeman, who seems to always get the best out of everyone, and to finally meet and work with the formidable Jocylen Moorhouse.
What's next in the pipeline for you this year?
I'm just about to go into development for a show I'm co-creating and writing to starring in. I'm not sure if I can say much about it, but it's with an awesome team and I'm really looking forward to it!