HASK Haircare: Join the biggest hair movement in Hollywood
It's 2022 and we're shining a spotlight on the biggest hair stars in Hollywood: HASK Hair & Makeup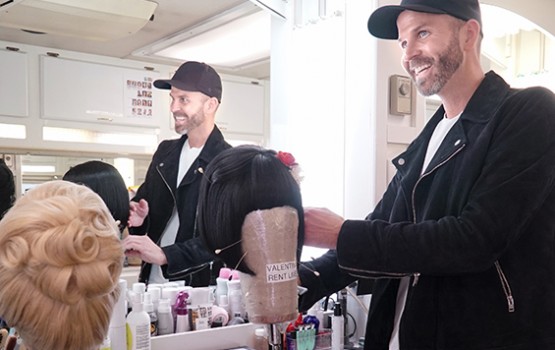 An absolutely essential, a quintessential, part of any and all character stories, the stylists who work effortfully, tirelessly and inspirationally behind the scenes now share their secrets on how HASK helps to ensure that their actors perform with radiant and healthy hair—with only ethical and clean beauty ingredients.
As the official haircare partner for the AACTA Awards for three years running, HASK have travelled alongside the award's exclusive and illustrious red carpet event each year by taking over the AACTA Award's official HASK Hair and Makeup Styling Suite.
Known for their clean, conscious and consumer-centric approach to haircare, HASK deliver a full range of products made for all hair types and all hair needs. As a result, each HASK product is formulated without the use of harsh and unwanted ingredients, and with an entirely cruelty-free approach to beauty.
Barry Lee Moe, professional hair stylist, mastermind behind the hair of Pam & Tommy (2022), Hollywood (2020), and Pose (2018), and avid user of HASK Haircare, comments:
"It's important to treat our hair with quality products that have minimal ingredients for maximum hair health. The HASK beauty line supports strong, healthy hair without styling limitations. It's one of the cleanest beauty lines on the market."
When it comes to ensuring that her actors perform and look their absolute best at every single shoot, professional hair stylist and hair department head behind Dungeons & Dragons (2023), Spider-Man: No Way Home (2021) and The Morning Show (2019), Linda Flowers knows that she can rely on HASK:
"What I love about HASK is that I can always count on it to perform the way I need it to perform. Most of my clients are high-performing actors and I need haircare that can match them," attests Linda.
As a dedicated industry supporter, HASK are well-known as the most trusted haircare brand in Hollywood. HASK has signed on to an exclusive three-year deal as the official haircare partner of Sydney's prestigious AACTA Awards.
Moving into 2023 and beyond, we simply cannot wait to see which new on-screen films, series and characters are brought to life by the growing community of professional HASK Haircare stylists.