Announcing the top five finalists for the AACTA Reg Grundy Award
We are excited to announce the top five finalists for the inaugural AACTA Reg Grundy Award who have pitched new and innovative ideas for original unscripted television entertainment programs with the chance of winning a grand prize of $50,000.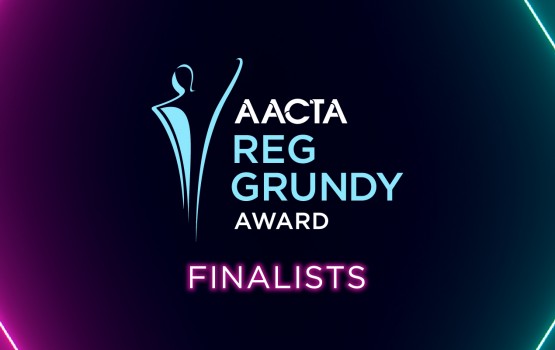 All five finalists submitted an outstanding pitch for an original, unscripted television entertainment program and each will have the opportunity to pitch to the entire judging panel for a chance to see their idea become a reality. From classic game shows with a twist, to dating shows and social experiments, the esteemed judging panel including Chris Culvenor (Eureka Productions), Ian Hogg (Australia's Got Talent, Australian Idol, Family Feud), Marion Farrelly (Producer, Industry Consultant) and Sharon Sussman-Wheeler (Producer and ex Grundy staffer) will judge the final pitching event, available to view at AACTA ScreenFest on Sunday 29th November at 1pm AEDT. Read the ideas from the top five finalists below and get to know them in greater detail by watching their one-minute personal introduction videos.
The Marriage Pitch
There have been thousands of dating and wedding shows over the years, but never has a series focused on the single most emotionally jolting and dramatic ritual in our culture: the act of bending down on one knee to pop the ultimate question. The series will be centered around Australian proposal planner pioneer Samantha Davies who over the past decade has created the ultimate luxury proposal experience for countless couples throughout Australia and beyond with her business Unforgettable Proposals.
Davies said:
"When opportunities like this knock, which rarely happen, this is when life changing moments occur. I'm moments away from showing Australia what a real love show looks like.. "
Next Slide Please
Comedians take to the stage to deliver a TED Talk on a subject they have no idea about, prompted only by a power point presentation they are seeing for the first time. A slide presentation projected behind them gives them the title of their talk and cycles through graphs, pictures, and notes as their only stimulus. They have five minutes to convince the audience they are an expert; leading to hilarious situations.
Mander said:
"Participating in the Reg Grundy Award has been a fun and challenging process. Getting time with Australia's leading TV producers is an invaluable experience and worth the effort alone!"

Trash to Cash
Storage Wars meets American Pickers. Enter an underground world of gutter hustlers from all walks of life, scavenging to make an extra buck. We follow the antics of real life characters searching street clean-up piles to discover the most valuable trash to be turned into hard cash. Each episode will follow a number of gutter hustlers as they travel around collecting the most valuable discarded items and hustle to on-sell them into the market (Facebook Marketplace / Gumtree etc).
Langton said:
"It's hard not to get excited about the possibilities when you get to this stage… From a chance entry to the top 5, this is already one of the major highlights in my life."

Seven Pups
A social experiment tracing a year in the behavioural development of one litter of seven pups and the seven culturally diverse families who will raise them. This is a unique look at nature vs nurture, through the doggie door. The series will cover the first 12 months of seven puppies' lives.
Coy said:
"The AACTA Reg Grundy Award has given us the opportunity to shine a light on an idea we've been tinkering with for many years. Progressing through the rounds has been enlightening and fun."
Vintage Van Revival: Trip or Flip
Each week, a dynamic duo is given $10,000 to purchase, renovate and restore a vintage second hand caravan in their own quirky style. The completed vans are professionally valued and the maker can choose to TRIP (keep / rent) or FLIP (sell) pocketing the profits. May the best van win!
Strachan said:
"It's been an overwhelmingly positive experience and I'm honoured to have had Vintage Van Revival make it to the top 5 new format ideas, amongst what was no doubt an incredibly strong pool of potential pitches"

To watch the final pitching event on Sunday 29 November, head to our ScreenFest website. Although entirely free, you do need to book here.
AACTA congratulates all the 15 applicants that made it through to Round 2, comprised of the five above as well as the ten listed below.
Australian Graffiti – Neil Singh
How Not To Die – Julia Spencer
Initially Speaking – Jon Olb
Melting Pot Luck – Julian Morrow
Quingo – Helen Kuisma
SHUT THE F*** UP! – Evan Williams
Starstruck – Odyle Knight
Tradie to Lady – Andrew Inman
The Vibe – Michael Rosenfeld
You Don't Know Me! – James Wilkinson
To read the related media release, click here