We chat with Emma Hunt and Kerry Drumm about the web series INCOMING: WORDS OF WAR
What inspired you to create this web series?
KD: The idea behind INCOMING: Words of War started to form after I watched Peter Jackson's First World War documentary, They Shall Not Grow Old. I remember fighting tears at the footage of soldiers in the trenches playing cards, reading, writing letters home or trying to sleep. At the same time, above them, the sounds of war, fighting and explosions continue. I was reminded of my time as a military wife and receiving letters from my husband away on deployment.
EH: After creating Little Red Fox Productions in 2020, I wanted my debut production to be something that resonated with me. I knew Kerry would be writing from experience and as with Kerry's writing, the script would be bold and confronting but laced with humour. I also have a direct family connection to the military, and I feel these stories need to be told.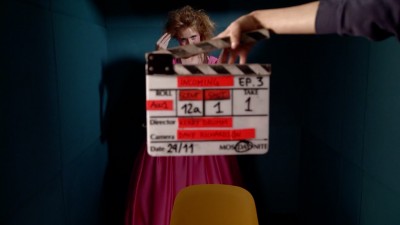 What challenges did you face in creating this production?
KD: The challenge was working around the lockdown restrictions and the limit of numbers allowed in a single setting. With this in mind, I came up with the idea of setting INCOMING inside a small booth. This enabled us to restrict interactions between the actors. Once lockdown restrictions eased, we saw a window of opportunity, and we built the booth and filmed over two weekends in my dining room!
EH: Producing during a pandemic, we learnt to be agile with the constantly changing landscape, and found that communication was key. Our priority was to ensure our cast and crew had a safe space to work and felt comfortable on set. My goal was that the team could focus on what they needed to do, knowing we had everything else covered.
What are you hoping audiences will take away from watching this web series?
KD: Many of the stories in INCOMING come from my personal experiences of being a part of that world, and it was important to me that it felt authentic. My hope is that we've offered an insight into the life of a soldier and the world of the military but also that their stories resonate with the audience, in that you don't have to be a soldier to experience grief, fear and homesickness.
EH: My family who are in the military felt they knew the characters in INCOMING and had been in similar situations. We wanted our cast to feel like soldiers. We hired the uniforms, with some additional items loaned to us for the shoot. Unable to have someone do the actors hair and makeup, we studied military bun tutorials and sent them to the female actors. It was fundamental that we captured and respected the 'real' military as this was hugely important to both Kerry and I. We wanted the stories to feel real and resonate with those who live this life. I personally hope that we have given an insight into this world to those who are not part of it.