AACTA Spotlight Featuring UNDER MY SKIN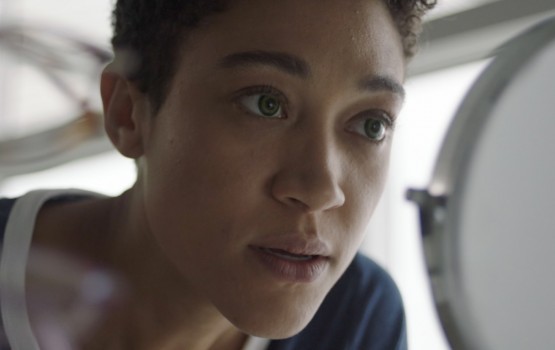 Featured image credit: David O'Donnell
We chat with actor, Chloe Freeman and composer, Evelyn Ida Morris about the film UNDER MY SKIN.
What inspired you to be involved with this production?
Chloe - Non-binary characters are rare! I was very excited to read a script not only with a non-binary character but one that led the story, was authentic and 3-dimensional. The brave choice to include 4 different actors to depict Denny was very inspiring to me. I jumped at the chance to be involved in something that I felt was going to be educational and inspiring to an audience but also a unique opportunity to bring my personal gender journey to a character.
Evelyn - I am always inspired - but especially in this case - by other nonbinary trans people, and by actors in general. I was so excited to see all the nonbinary actors performing with such authenticity and commitment, bringing such diverse experiences all into one character - it made me want to make music that supported their performances. I did not yet properly know Raynen O'Keefe when making the soundtrack, but in hindsight I think I was deeply drawn to them as well, in some kind of instinctive way.
What challenges did you face in the making of this production?
Chloe - I had to shave my head which was quite scary at the time! It's funny how hair can carry such weight - both physically and emotionally, and can be so tied to identity. I immediately loved how it felt and haven't grown it out since. I feel free.
Evelyn - A cis person telling this story is something I would usually criticize in other films, as there is so much room for misinterpretation, and no amount of consulting and research replaces lived experiential knowledge.
I chose to put that concern aside as I was excited by all the actors' performances and also excited by the chance to work on a nonbinary narrative that contained such multiplicity. Looking back I wish I had met Raynen and the actors before making the score! Post production can be such an isolated part of film making, so it is a great lesson to learn - to reach out to folks who were more involved in pre-production if that is a possibility.
On top of all that, I made an attempt to move to Los Angeles right before Covid hit, at the start of March 2020. So I finished the soundtrack during a challenging time where I was coming to terms with how it feels to be autistic in a new country during a pandemic - it was very 'trial by fire'.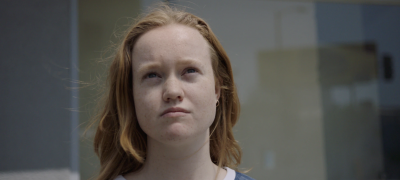 What is one piece of advice you would give to aspiring filmmakers?
Chloe - Where you feel safe to - be as brave and wild as you can.
Evelyn - Learn as quickly as possible how to know yourself and have good boundaries, don't let your eagerness to be in the industry burn you out.
Also, listening is more important than making. Reject the narrative of "the solitary genius" because collective creativity is far more robust and generative, in my experience. I think this film and others I have worked on have all had that in common, and it has made them immeasurably better.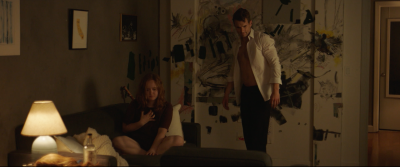 What are you hoping audiences take away from watching the film?
Chloe - That there is no 'one way' to be or look in order to be trans. And that sexuality is not attached to gender. I also hope that it opens the door for people outside of our community to be respectfully curious and kind to those within the community.
Evelyn - I think the film speaks for itself and tells its own story, and it is just one version of existing as a nonbinary person. I suppose my main hope is that people understand that there isn't just one way of being nonbinary. I really look forward to the days when being on screen and nonbinary is not about our struggle to be understood, but about our various normal day to day lives and often great jokes and giggles. Film is a powerful tool for translating marginalised narratives into central narratives that all people can empathize with deeply so I'm glad to see that we are on screens a little more every year.
I want to see us also behind the cameras, in the directors chairs, in all kinds of cultural settings and with all kinds of cultural backgrounds, as soon as possible.
Final thoughts?
Chloe - Congrats to an amazing team for pulling off such an incredible story. I'm extremely proud to be a part of it.
Evelyn - A huge hug and kiss and warm feeling to everyone in the arts/film/music that are struggling through Covid and through late stage capitalism. What we do is important, even if we can't feel that right at this moment. If I didn't have films to watch, music to listen to, art to experience etc I would not survive. Thank you for everything you do.
For more on UNDER MY SKIN, follow @undermyskinfilm on Instagram.