Featured Image: Abbey-Rose Leed in Mars - Photo Credit: Janine Kaiser
We chat with Janine and Raymond, Producer and Director of the short film MARS.
What inspired you to create this production?
Raymond: It was a warm sunny afternoon as I stood on the platform at Flinders Street Station in Melbourne, waiting for my train home. I looked up at the platform across from me and there she was, looking right at me, but I quickly looked away. You see, I'd just come out of a toxic three-year relationship and my confidence and self-esteem was crushed. Surely, she wasn't looking at me? I looked up again. She was still looking at me... and smiled.
Janine: At the time, consent and respect in a relationship were widely covered topics in the Australian news due to a significant survey on national community attitudes towards violence against women taking place. At the same time, the Tinder app had gained popularity amongst the young adult demographic, making it easier than ever, to find a dating partner or a casual encounter. This critical analysis of attitude and desire was necessary, but as a by-product, caused increased confusion about the classification of appropriate and inappropriate actions when building relationships. Raymond and I felt it was the right time to tell the story of Ethan's and Violet's subtle romance and show the effect a small encounter can have on our human hearts.
What challenges did you face in creating this production?
Raymond: We encountered many obstacles when planning our film. We knew we wanted to film at a train station which resulted in some limitations. The main two being no tripods on the platforms (trip hazards) and no lights (distracting for train drivers). However, I strongly believe limitations encourage you to think more creatively. Despite these limitations I worked closely with our Director of Photography, Adam Lynch, to storyboard and plan
Janine: I remember I felt challenged to find ways of making a sci-fi work on a shoe-string-budget. Still, I was particularly interested in the artistic opportunity, for both crew and cast, in making a romance without the use of dialogue or touch.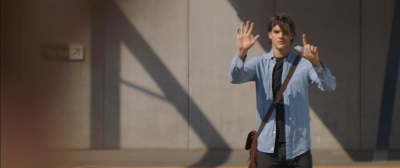 What is one piece of advice you would give to aspiring filmmakers?
You cannot thank enough your crew and cast donating their spare time in crafting your vision.
What are you hoping audiences will take away from watching this film?
Janine: Over the past few years, 'loneliness' has grown amongst the young adult demographic into an epidemic. Studies show that 1 in 3 young adults feel lonely and struggle to form romantic relationships. Significant societal changes, use of social media, and a scrabble-match build on terms of non-commitment fuel the spread. In a time of social distancing, the number of people experiencing loneliness will rise across all ages. So, with this film, I, for my part, hope to encourage young adults and mature adults alike to actively seek-out meaningful connections and appreciate the small things that give us pleasure in life.
Final Thoughts?
While the production of the film completed relatively fast, it took us three years to complete the film in post-production. MARS is a passion project of ours, and with any passion project, life sometimes gets in the way. The time allowed the film to mature and benefited hugely from the new connections we were making in our professional lives. For example, we were able to bring the post-production house Pixel in Melbourne and the sound studio Rumble Studios in Sydney on board.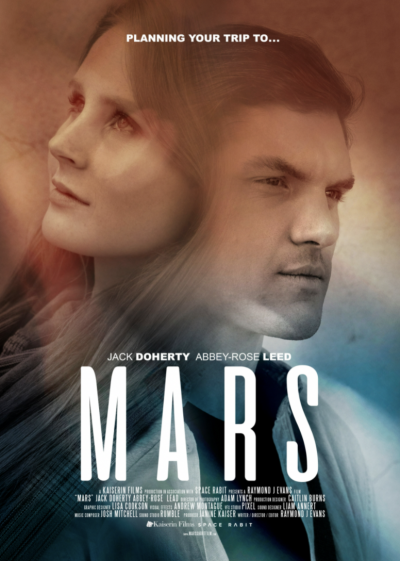 Follow the journey with MARS on @spacerabitfilms and @kaiserinfilms on Instagram.