We chat to Claire Haywood about CHAN & DEE'S DRINK TANK
What inspired you to create this production?
I was inspired to create this comedy series with Helen O'Connor and Louise McCabe, in the first instance, after reading an article by the wonderful Helen Garner, about how, as an older woman, she now felt invisible to the rest of the world. This, combined with many conversations with actress friends lamenting the lack of opportunity for meaty comedic roles for women over a certain age, spurred us on to create make this madcap comedy with serious overbite.
The theme of our satire is the invisibility of women and as 'women of a certain age' we were experiencing this in the entertainment industry as well as in our personal lives. We set out to be as audacious as our male counterparts in the comedy space and also to create a series that would give older women a voice about the issues that directly affect them.
We chose to convey our social message through the lens of entitled, private school educated characters; women who were gobsmacked at the very thought of finding themselves no longer in a position of privilege, simply because of their age. The chat show within the show was devised as a vehicle for expanding the satire on current affairs, from a women's perspective. It gave the actresses the scope to play multiple roles and really flex their comedy muscles as we eschewed the constraints of typecasting, age and gender stereotyping.
And what an amazing group of women joined us to play an absurd array of characters: Helen O'Connor appears 11 different cheap wigs, including, as NZ prime Minister Jacinda Myturn and former first lady Melania Trumpeter, Rhonda Doyle plays her hapless friend Bettina Westfield-Rockbottom and fashionista Maggie Teepee, Di Smith does a stint as former PM Julia Gohard, Tracy Mann channels pop legend Madoona, Dina Panozzo plays Clive Palmer on saxophone, Deborah Sintras stars as the Greek Kardashian goddess, Louise McCabe shows her cabaret chops as the french au pair who slipped through immigration, Linden Wilkinson plays female icons Germaine Sneer and Margaret Hatchet and Susie Dougherty appears as a sage stick wielding psycho therapist. Appearing in cameos are 80's supermodel Sue Smithers, singer Nicole Warner and comedienne Emily Weare. Superstars all!
A highlight of the show's screenings beyond our Youtube channel was having the show selected for several international festivals including the Gold Coast Festival, and the Portland Comedy Festival where we appeared on a massive drive-in screen.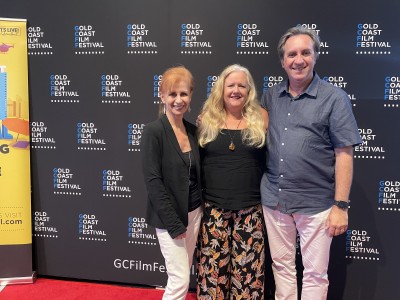 What challenges did you face in creating this production?
We wrote this series during the first 2020 Covid lockdown in Sydney. When we were allowed to leave our homes, we boldly went where no film crews - at that time - had dared to go. With strict Covid protocols in place, we filmed wearing masks for 10 hours a day which was extremely challenging, especially for the crew who ended up with pash rashes and all manner of skin and personality irritations. Reminding the actresses not to hug each other before, during and after takes was also a challenge. Many of these women are friends in real life and they don't do air kissing. With such a large cast working on a no-budget production, as director I was very conscious of being efficient with time which meant that we rehearsed very quickly, in a few minutes before we rolled. We managed to shoot around 10 minutes a day, which is an amazing feat given the logistics of wardrobe changes and the fact that most of the actresses played multiple characters, so they often had to play opposite 'themselves'. Blocking these 'Patty Duke Show' style scenes was fast and furious and we didn't have enough physical space for stand-ins. Occasionally continuity went out the window. All I can say is: I will never work with mixed drinks again.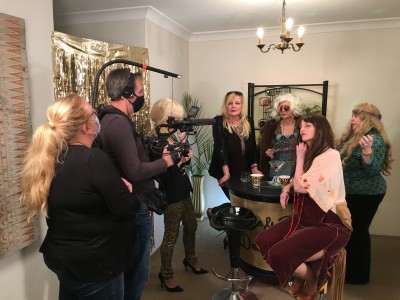 What are you hoping audiences will take away from this film?
We hope audiences have a good laugh and at the same time take away the underlying message of the series: that women are to be appreciated and valued at any age and that the only way to grow older is authentically, even if that means, disgracefully. We also hope that viewers will recognise the incredible pool of talent there is in Australia, of actresses over 50 who have so much to contribute to our industry.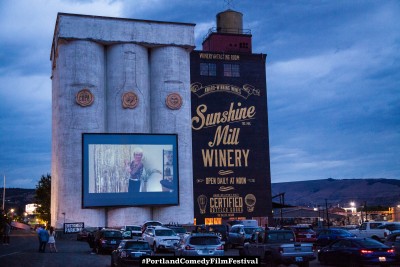 Final Thoughts?
We hope viewers have as much fun viewing as we did making this series. If this is your thing, please share, tell your friends and vote for us, so that we can make more comedy for women. If it's not, meh! There's plenty of other great stuff to watch. Or, better still, make your own. We had a blast.