We chat with Lesley Pinder about the director / writer's short film BREATHE
What inspired you to create this production?
Breathe originated from my interest in exploring sound. As a filmmaker I understand how sound can help tell a story, often transforming it in the process. I wanted to work more intimately with sound and explore its full potential. Sound touches us on another level - it can relax us or stress us out. Different sounds have different effects on the human psyche. The power of sound can be a transformative experience. I decided to challenge myself and see if I was able to tell a narrative story through sound alone.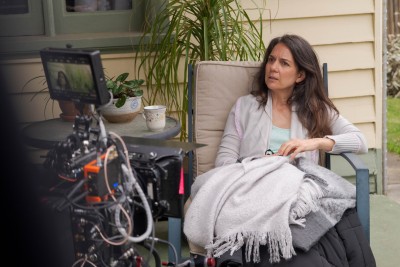 What challenges did you face in creating this production?
Breathe was written during Melbourne's long 2020 lockdown. We decided to try to get the film ready to shoot as soon as restrictions would permit. All pre-production took place on Zoom, including crewing, casting, auditions and rehearsals. It was extremely difficult for our Production Designer and Costume Designer because all retail shops and prop stores were closed so they had to think outside the box as to how to source everything they needed. Locations were recced on bicycle as part of our daily exercise allowances and all were within our 5km radius limit. The challenges were exacerbated every time lockdown got extended because we had to decide whether to reschedule our shoot or hold on in the hope that things would go our way. They eventually did, and we filmed only 10 days after lockdown lifted. We met most of our team in person for the first time on set!