A Living Hell: Australian Landscapes On Screen
Australian cinema has a history of celebrating reckless men. Mythic, real or fictional, from Ned Kelly and Mad Max to Adam Cullen, there's a fascination with outlaws. Be it endless bush and marshland or the barren plains of The Outback, Australia's non-urban, often unforgiving landscapes provide perfect reflection of the characters they condemn. Outlaws or outliers, these characters are narcissists, trying to win a fight for survival against the elements, and thus, themselves.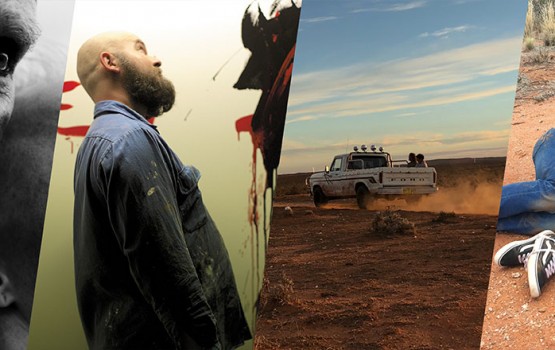 "[Y]ou don't know shit until you live it. Until then, it's just a fucking idea." – Adam Cullen, ACUTE MISFORTUNE.
Adam Cullen might just be this year's most striking screen narcissist. Along with The Clown (REFLECTIONS IN THE DUST), anti-gun city boy, Ryan Black (LOCUSTS), and American military man, Wade Kelly (OUTBACK), this collection of onscreen outliers explode the idea of the Australian landscape to reveal their own living hell.
Thomas M Wright's directorial debut, ACUTE MISFORTUNE, is adapted from journalist Erik Jensen's novel of the same name. Toby Wallace plays Jensen with smarts and gumption. Cullen, performed by an unflinching Daniel Henshall, recognises Jensen's talent and tenacity as if his own. The two strike up a punishing friendship, one that takes its toll both physically and psychologically; Cullen shoots Jensen in the leg and strings him along on the promise of a non-existent book deal. His destructive behaviour is, just like his move from the city to the mountains, an attempt to re-locate his inner darkness. What Wright reveals in images is that Jensen was a welcome distraction from the rugged Blue Mountains of Cullen's soul. Considered one of New South Wales' most stunning locations, Wright shows Cullen violently creating in solitude amid the vastness of the mountains, refusing to let the vista breathe, framing it and its protagonists in the Academy aspect ratio (1.37:1), reflecting Cullen's displaced narcissistic claustrophobia with aplomb.
Another image as punishingly empty as the foul soul it echoes is of The Clown (Robin Royce Queree) in Luke Sullivan's REFLECTIONS IN THE DUST, fishing for survival in a lake where 'there might not be any fish'. Sullivan's black and white cinematography reveals a post-apocalyptic landscape where The Clown and his daughter, Freckles (Sarah Houbolt), live together, alone. The stunning but stark black and white view is occasionally interrupted with formal studio interviews, recorded against red and blue screens. The effect is piercing. There are no special effects here because the alternative to the harsh world around them is simply nothing at all. Just as there's no escaping the ominous thunder and rolling clouds Sullivan uses to bait our senses, there is no escape for Freckles or The Clown from the empty Australian marshland that surrounds them and their violent, lonely fate in each other's damned company.
Just as lonely, Ryan Black (Ben Geurens) returns to his hometown in LOCUSTS, somewhere in that vast, barren land known as The Outback. There to attend his father's funeral, he briefly reunites with his deadbeat brother. Playing city slicker to his brother's trailer trash, Ryan embarks on a lawless hero's quest to save him from a local drug cartel. Though it might have been a smooth ride from Sydney in his Mercedes Benz, the only way out of The Outback is down the barrel of a shotgun. Director Heath Davis intercuts his causal, pacey drama with still compositions of rotting animal carcases to drive home the point that the land is not for living off, it's death's harbinger. Davis' central message may well be political – the locals have 'a lot of spare time on their hands,' and hunting is the 'only steady work' because 'all the mines have dried up' – but the subtext is that making peace with private demons is as unlikely as the road is long.
The most damned environment of all, though, is the titular OUTBACK. Here, a feuding American couple trade their coastal holiday plans for a more adventurous forte into the so-called 'Never Never'. Wade (Taylor Wiese), whose very masculinity is on the line after his girlfriend turned down his marriage proposal, embodies bullishness. He doesn't have the resources or resourcefulness to survive the fictitious 'Back of Beyond', something writer-director Mike Green lays bare in showing the silent beauty of an otherwise unseen sunset before cutting to the indistinguishable and endless desert facing the pair at nightfall.
Though the idea of the Australian Outback is one that conjures up mystery and adventure, the reality is far more confronting, and deadly. The trap for these onscreen outlaws and outliers is that the spaces they encounter are psychogeographical, deadly pulsating like the instantly recognisable yet entirely unknowable image they have of themselves. The image and thus the idea of the landscape only opens up when it's lived – even if living is hell.
Tara Judah is a freelance film critic and programmer who has previously written for Senses of Cinema, Desist Film, Monocle and Sight & Sound and talked all things film on Monocle24, BBC World Service, Triple R, ABC RN and JOY FM.
To learn more about al thirty-four of the feature films in competition for the 2019 AACTA Awards presented by Foxtel, download the Judges Handbook here.